People went crazy when Zillow emerged in the mid-2000s and it has been causing a stir ever since. By simply adding a home address into a search bar, the general public was given an instant dollar amount on the value of any property. With reckless abandon, homeowners, buyers, and anyone else were "discovering" what they thought was a gold mine of undisputed, accurate home value information.
It was a computerized system, technically called an automated valuation model, so it had to be right.
Right?
Due to the wild popularity of valuation searches to attract potential customers, other sites like Redfin, Realtor.com, banks and mortgage companies, regional realty agencies, and random blogging sites all now have a similar instant home valuation tool. 
But the questions around accuracy still stand. And to find the answer, you must start with the question in the search bar…What is your home worth?
Well, it depends on what the meaning of "is" is.
In this case, "is" should be replaced with might, could, or may. And that is on a good day.
The Zestimates®, Redfin Estimates, and other instant home value estimations and ranges were intended to be a "starting point" for those considering buying or selling a home. We find them to be more of a tripping point.
As Realtors® who regularly conduct a Comparative Market Analysis (comp) for home buying and home selling clients, as well as inquiries from all kinds of people…we believe that home estimator sites should come with a warning label. Eight of them in fact!
#1) CAUTION: Estimates Can Be Way Off from Reality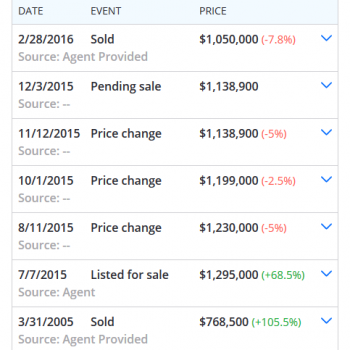 Price history of Spencer Rascoff's Seattle home in Madison Park from 2005 – 2016.
Our favorite warning story is about Spencer Rascoff, Zillow's then-CEO, selling his Seattle home in 2016. The Zestimate for his home in the Madison Park neighborhood was $1,750,000. However, it ended up being listed in July of 2015 at $1,295,000. After many months on the market, and several price drops, the home finally sold in February of 2016 for just $1,050,000…a whopping 40% below the original Zestimate. (Ironically, the Zestimate® fell to just $1,500,000 after the sale was recorded).
This massive Zestimate®-to-sale-price disparity isn't always the case for properties on the automated home valuation sites, but it is common for there to be a difference. If you want to know the actual current value of your home, find a real estate agent who can comp your property. Keep in mind, agents often spend several hours to comp a home, rather than the few seconds that the sites take. But it will be much more accurate and trustworthy.
#2) NOTICE: Competing Algorithms Result in Very Different Home Values
For curiosity's sake, we inputted the address of Rascoff's old Madison Park property into three of the commonly used home valuation sites to see what they deem the current value of the home (four years later in February 2020). Zillow's Zestimate® was highest at $1,774,553, Realtor.com came in at $1,648,900, and Redfin gives it a $1,520,937 value estimate. That's over a $250,000 valuation difference (14%) between the highest and lowest estimation.
Most people have their go-to site to search properties and get pricing intel. When we talk with someone who places a lot of trust on one price point they found on their favorite site, we recommended that they check multiple estimator sites, until recently.
We now point people toward a valuation tool on our real estate site that provides up to three different estimates and ranges from different sites, allows for the homeowner to adjust the estimates based on the condition of the home, provides a local housing market heat map, details the types of homes actual buyers are looking for, and gives a list of the most recent sales and buying trends in their general neighborhood. The extra information and insights provide a broader understanding of home values in light of the current market conditions.

Three online home estimates from some of the top commonly used home valuation sites.
#3) LOOK OUT: Valuations May Rely on Bad Facts
One of our first steps in running a comp on a property is to crosscheck it with the commonly used automation sites. This is mostly to know what figure is likely in a client's mind. More times than not, we find wrong or missing information about the search property on these sites. When we meet with the client, we lay out all of the price range estimates and highlight the missing info on each site, and then transition to actual comps for their home based on accurate information and give them a real valuation on the property.
Based on the Madison Park property we've profiled in this article, and without naming names of the sites, one site is missing one of the house's bedrooms on its profile, one site has a wrong lot size, and another site has mistakenly listed the size of the home-making it 450 square feet smaller than it really is. While a missing bedroom can adversely affect the value of a home by several thousands of dollars, missing several hundred square feet of living space drastically reduces the value of this home by hundreds of thousands of dollars.
If you are looking at an online estimation of your property, make sure the listed home facts are correct. If you are the homeowner and there is missing or incorrect info on a site's profile, you will want to fix it.
#4) BEWARE: Estimates Are Heavily Influenced by a Home's Past Life
Piggybacking on the previous warning, the home estimate sites only know the home based on the information it has access to (previous listing on the market, tax assessment information, etc.). The property profile showcases any old pictures and marketing information from when it was last on the market.
Let's say you bought a fixer upper at a price way below market value several years ago. Over time, the home has been remodeled, updated, and expanded in size. You may have added a new bedroom, expanded the square footage with a bonus room, and completely updated the entire house. The home estimate sites don't know that. And therefore, the estimations they show for your off-market property is significantly less than it should be if the home were to be put on the market today. This not only affects your property's value on the sites, but it influences the estimates on your neighbor's homes as well.
Most changes to the property profile and estimate change when the property listing goes up for sale. At that point, the estimate usually changes to get closer to the new on-market price (a price based on a human real estate agent spending several hours comping the home).
All that to say, the more you do to improve a property, the further away from reality these automated estimates move, which makes them even less relevant than before.
#5) ATTENTION: Unfavorable Factors Are Viewed in a Favorable Light
Certain home or property features can be viewed as unfavorable to many prospective home buyers. This has a real market impact on the selling price of a home. Is the home on a busy street? Is the lot severely sloped and unsafe for pets or kids? Does the home have an unconventional floorplan? Is the home in desperate need of renovation and revitalization? Is the property in an unsafe or undesirable area? None of these factors affect the automated online estimate but have a tremendous impact on the price a property will fetch in the real time housing market.
The highlighted Madison Park home has peek-a-boo views of the lake, city, and mountains. But it also sits on a major arterial street. In real market conditions, a busy street with traffic noise often trumps peek-a-boo views. The Zestimate® likely didn't factor in the busy street and its effect on buyer desirability. An agent will consider unfavorable factors when comping a home to give their client a more accurate pricing of the property. Because they know that ultimately, a home is worth what a buyer is willing to pay for it in current market conditions.
#6) BE AWARE: Most Agents Do Not Rely on Online Estimates for Real World Home Valuations
As we've said, real estate agents have access to a whole lot more real-time information than a computer.
Rather than reacting to dated changes in the public records or new listing information from the multiple listing service like the algorithms do, a real estate agent can:
(1) account for any improvements, updates, and remodeling done to the home by actually viewing it;
(2) measure the most current market conditions for specific neighborhoods, style of home, and price point;
(3) find and evaluate recent comparable homes that have most recently sold, gone pending, and haven't sold;
(4) speak with other agents on comparable home sales for closing terms on their sale and gather intel on the demand for the home;
(5) distinguish unfavorable and favorable aspects of the home, property, and location;
(6) determine a specific price or range based on what the seller's needs and goals are.
Real estate agents are humans looking at the current market for what it really is, while algorithms are looking at what the market recently was.
In a MarketWatch article, Rascoff said, "we call it a Zestimate and not a zeppraisal and not a zeprice." In March of 2020, he listed his Brentwood Park estate on the market for $24,000,000…that's $7-million over the Zestimate® for the home. The funny thing is that a graphic with a robot appears on the home's listing on Zillow stating, "The list price and Zestimate® for this home are very different, so we might be missing something." What's missing is a human skilled in assessing values on homes in current market conditions.

Zillow's disclaimer when an online estimate and the current listing price are drastically different.
#7) CAREFUL: Sites Get Compensated for Access to Your Information

We're going to draw back the curtain for most of these home valuation sites…they want access to you and your contact information.
There's no secret that this is the ultimate goal of every website, app, search engine, and social media site.
The allure of the online home valuation sites, their property tracking functions, and changing estimates of off-market properties creates a nearly irresistible combination for many homeowners and those looking to buy or sell a home.
Keep in mind that as you click further into the online estimate, these sites are gathering information on you to either use for their own purposes or some will even sell your information to agents as "leads." Sometimes the person who will be contacting you is identified (like on our real estate site), and on other sites you don't know which agent (or how many) will be contacting you.
There's nothing inherently wrong with these client acquisition strategies, but it is worth noting that either the site is being paid for access to you (agents pay Zillow), or it will directly benefit from your using their services through sales commissions.
You may not want to take the path of least resistance and allow (another) computer to determine who your real estate agent is. But where does one start to find an agent?
YourAgentLynk is a great first step to help you identify agents anywhere in the world. We start with you: your needs, your timeline, your circumstances, and your real estate goals. Rather than a computer, a real human will work with you to find out what you're looking for in an agent, and will match you with a vetted agent that meets your needs. YourAgentLynk also stays connected with you to ensure your real estate needs are met, and if you end up changing your goals, we'll be right there with you, connecting you with a new agent if need be. You are in the control seat every step of the way.
#8) WATCH OUT: People Treat Online Estimates as Gospel Truth
Every generation seems to fall into the same trap. The common belief last century was "it must be true if it's on television." In this new millennium, the common belief is, "it must be true if it's on the internet."
We can't tell you how many times we've heard, "Well Zillow says my home is worth…" Or on the flip side, well-meaning, but ill-informed potential home buyers will show up at an Open House and attempt to negotiate the price with, "I noticed this home is priced much higher than the Zestimate®. How do you explain that?"
We've even heard about people checking online estimates daily and treating the fluctuating value like a stock market ticker.
This article has highlighted all kinds of problems and issues with the online home estimates, and why they shouldn't be treated like gospel truth. No site is more accurate than the other. They all have flaws.
We think this final warning is best responded to by another quote by Spencer Rascoff. "Zillow was never meant to replace real-estate agents, but to give consumers access to home-value information that real-estate agents were once gatekeepers of…To determine a more accurate opinion of a home's value you should hire a real-estate agent."
Final Thoughts
Don't get us wrong, the automated home valuation sites do have some value.
The public now has easy access to information about a home that used to be hard to come by: home features and specifications, property tax history, property sales history, property and neighborhood maps, and local services and school districts. All conveniently contained in a single home profile page.
Some of the sites have a property tracking map to more easily find active homes, open houses, and recent sales activity.
But as you wander the sites, input address searches, and click on property profiles…keep the 8 Warning Labels in mind. If nothing else, the warnings should save you from making a misinformed decision related to buying or selling a home.
ACTION ITEMS:
Interested in knowing what your home may be worth? Get 3 Estimates PLUS current buyer demand and market activity in your area

here.

Want help finding a real estate agent?

YourAgentLynk

can help!
Need an actual Comparative Market Analysis done for your home? We can get it done for you! Request a form through the

Krafsky RE Team contact form
About the Authors:
Jason and Kelli Krafsky are relationship experts turned Realtors, combining their relationship insights and real estate advice into articles and resources for home buyers, home sellers, and home owners at YourHomeLyfe.com!
Called "Your Family's Go-to Real Estate Team," Jason and Kelli serve clients throughout the Puget Sound region of Washington state with John L. Scott, Inc. – Bellevue Main office. They are also members of the National Association of REALTORS and Seattle-King County REALTORS. The Krafskys have been married since 1994 and have four kids.
Copyright 2020 K. Jason & Kelli Krafsky