The office is notorious for structure with specific times, detailed duties, and expressed expectations on how employees look, act, and perform. The home is a place that is naturally reserved for you to relax, be yourself, and live and exist by your own rules.
As many are now being mandated to work from home due to recent public health crisis, some people are forced to work from home for the first time… and are having a difficult time fully adjusting to their new "office."
For more than a decade, I have worked from home. I have led hundreds of conference calls over the phone and internet…from home. On top of that, I have participated in thousands of at-home conference calls. Over the years, I have heard about every noise possible while on a conference call. Barking dogs. Crying kids. A couple arguing (one of whom was supposed to be on the call). Clanging dishes. And yes, someone urinating and flushing the toilet.
Personally, I love working from home. I am more productive working at home. I like the fact that I can work in casual wear, not shower until mid-afternoon (it happens from time to time), and be in a space that co-workers can't "drop by" and interrupt my productivity.
But, when your home becomes your makeshift workplace, several conflicts exist. Your mind, body, and soul are accustomed to acting differently in the home than in the workplace. The battle between the relaxed standards of home and the highly structured norms of the workplace is very real.
One area I've noticed is very difficult for people to keep at a high level of professionalism is during a conference call. While most every professional person has been on a conference call before, participating in a work conference call from home is much different than taking part in a work conference call while at the office.
Here's some conference call tips from a work-from-home veteran that can help save you time, your reputation, and your dignity.
DO's WHILE PARTICIPATING IN A PHONE CONFERENCE CALL FROM HOME

DO forewarn others in the home about the conference call – If other people live in your home, do the courtesy of letting them know when your call begins and how long it should last. Let your expectations be known. Your kids will likely need to be reminded often. Tell them ahead of time if you'll be speaking throughout the call and you need them to be as quiet as possible. If you can't be interrupted or distracted during the call…share that detail with them as well. If needed, put a sign on your closed door that states you are on a call as a reminder. And when the conference call is over, let them know so they can live normally in the home as well. No one likes tiptoeing around their own home all day. It's unfair and an unreal expectation.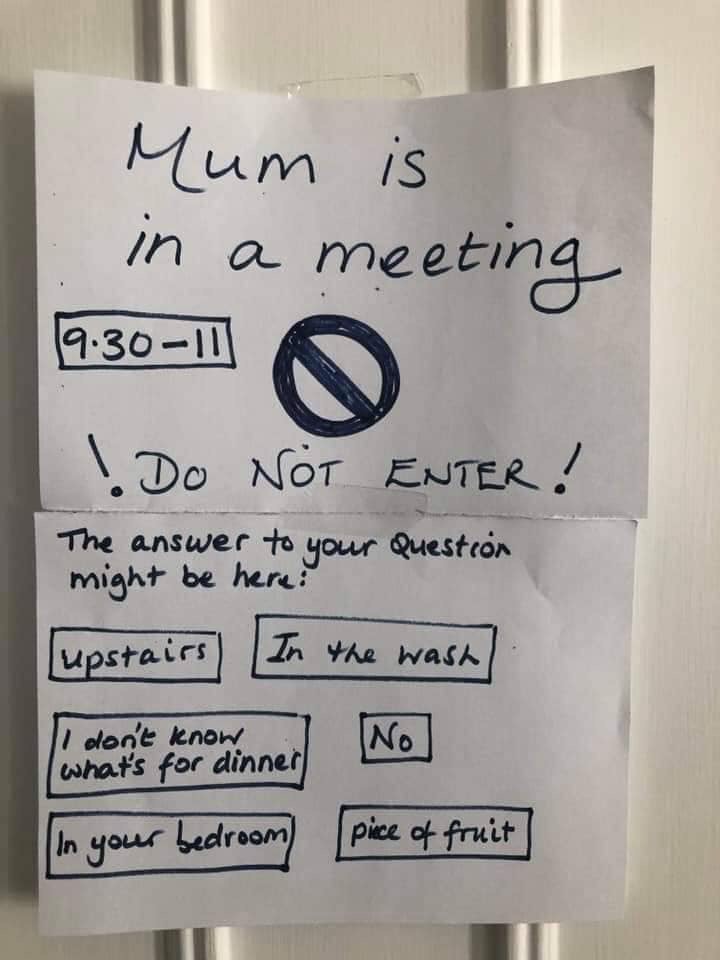 Original post by Robin Roscigno on Facebook
DO become BFF's with your MUTE button – Do not rely on the mute capabilities of the conference call system (even if everyone is muted). You may not always be aware when it is on or off. The mute button on your phone or headset gives you a lot more command over what sounds can get through to the rest of the group. Heavy breathing, coughing, sniffling, chewing gum, crunching ice, or slurping a drink sound even worse than normal when it is done directly into the ear of the others on the call. Know where the mute button is and how to use it. You will have more confidence as you speak coming off mute (instead of asking "can you hear me?"), gain more respect by others (who determine a co-worker's competence over their ability to master the simple task of muting/unmuting themselves), and more freedom to move about your home during the call.
DO distance yourself from noisy spaces – Life at home is filled with familiar noises. A loud sound when the heater starts up. The hum of an oscillating fan. Clanging dishes in the sink. A lawnmower outside the window. The reverberation of footsteps from the floor above. A noisy pet. Actually, a noisy dog…a barking dog specifically. Do what you can to limit the familiar loud sounds of your humble abode from disrupting the conference call and annoying your co-workers who are (hopefully) making an effort to do the same.    
DON'TS WHILE PARTICIPATING IN A PHONE CONFERENCE CALL FROM HOME

DON'T assume people know your voice – On conference calls with more than 3 people, it is a good practice to always state your name before commenting or asking a question to the group. If you don't, most everyone on the call is trying to figure out who is speaking and miss out on what you're saying or asking. Here's a good practice to follow: State who you are (your first and if needed last name), whether you'll be asking a question or making a comment, and, if the question or comment is specific to a person or for the group, then state the question or comment concisely. This saves a lot more time than people realize by minimizing the need to be interrupted or repeating yourself because people didn't know the voice behind the message.
DON'T chit chat as people arrive to the call – This is one of my biggest pet peeves. When the first few people on a call arrive early on the call, they feel the need to fill space with small talk. This quickly evolves into one person sharing a story and the other person asking questions about it. All this occurs while co-workers are entering the conference call and either don't interrupt to share that they arrived, or they can't be heard because a couple of early arrivers are deep in a discussion. Then after a few minutes, the early arrivers ask who has arrived. At this point, 18 people are all trying to state their name at the same time. Now it takes another several minutes to figure out who is and is not on the conference call, delaying the start of the meeting. Yes, complete silence can feel weird. But by filling the silence before a conference call starts with chit chat forces everyone who showed up in the virtual meeting room to hang out by the virtual water cooler.
Bonus Material! With the overnight popularity of Zoom and Microsoft Teams, many businesses are opting for video conferencing for their employees forced to stay at home. All of the tips for phone conferences apply, but here's a few more do's and don'ts with video conferencing.
DO'S & DON'TS WHILE PARTICIPATING IN A VIDEO CONFERENCE FROM HOME

DO consider what is in eyeshot – When participating in a video conference from work, your background looks like a workplace. When video conferencing from home, there's a good chance your background doesn't look as professional. Keep in mind, others will be looking at what is behind you. Pictures on a shelf, posters on the wall, books on the bookcase, or the disorganized clutter on a table. Watch what (and who) is behind you, because everyone on the video conference is.
DO be self-aware of your bad habits – You are at home. The place where you can do whatever you want whenever you want. You're more relaxed at home and tend to do things that you don't do in front of others in the workplace. You may twirl your hair, bite your nails, pick your nose, or scratch your head.  But now, you are "at work" through a remote video feed. And others are watching the screen. Once movement occurs, it's natural for people's attention to divert their eyes to it. So, what might seem like a "private" moment at home is a very public moment at work. If you need to remind your brain and body where you are at, post a note next to the camera to help you recall that everyone is watching you.
DON'T leave the camera on during breaks – The most comedic moments at a work-from-home video conference is when a short break is given. This is a critical moment where too many people make a mental shift thinking they are at home. People stand up and reveal that they are all business on top with a dress shirt, but all casual below with sweatpants. Or they sit and stick their faces into their cat and cuddle it. Or, even though they're on mute, they are yelling at an off-camera person in the home. Avoid being a home bloopers live-action show and either temporarily turn off your camera feed, or cover up the camera with a post-it note or taped paper. 
Many of these tips are based off personal eyewitness accounts. A few I had to learn the hard way. In this new COVID-19 season where many are working from home, you have to train your brain that there is not just work behaviors and home behaviors, but you have to add in work-from home behaviors. It can take a little while to fully transition that mindset, but the sooner you do, the less chance you have of becoming an example of what not to do during work-from-home phone or video conferences.
ACTION STEPS
 What would you add to this list of "Do's and Don'ts"? Comment below and add to the list!
Want to both look and sound like a work-from-home pro? Find a headset that works for you. Here's several from Amazon.
Look at what your current background for video conferences show. Consider changing it up to look more professional…even if it's a temporary change.
Set up a time each day or week to discuss with housemates or family members about your schedule of phone or video conferences and what everyone can do during the needed "quiet times."
About the Author:
Jason Krafsky is a relationship expert turned Realtor, combining his relationship insights and real estate advice into articles and resources for home buyers, home sellers, and home owners at YourHomeLyfe.com!
Jason and Kelli Krafsky (a.k.a. Krafsky RE Team) are award winning brokers with John L. Scott, Inc. – Bellevue Main office and licensed real estate agents in Washington State. They work with home buyers and home sellers throughout the Puget Sound region and around the state, and often link people wanting to buy or sell outside the state with referred agents through YourAgentLynk. Jason and Kelli are also members of the National Association of REALTORS, Washington REALTORS, Seattle-King County REALTORS, and the Northwest Multiple Listing Service. The Krafskys have been married since 1994 and have four adult children.
Copyright 2020 K. Jason Krafsky